General lnformation
Title
IFPEX2017-The 25th International Fluid Power Exhibition
Date
September 13 [wed]-15[Fri], 2017 10:00-17:00
Venue
Tokyo International Exhibition Center [ http://www.bigsight.jp/english/ ]
(Tokyo Big Sight, Ariake, Japan) East Hall
Visitor admission fee
Free
* pre-registration through the official web site is required.
Organizer
Japan Fluid Power Association
Fuji Sankei Business i
Supported by
Ministry of Economy, Trade and Industry / Ministry of Land, Infrastructure and Transport/ Ministry of Education,Culture,Sports,Science and Technology / Japan Chamber of Commerce and Industry / Tokyo Chamber of Commerce and Industry / JETRO / Japan Machinery Federation/Association for the Promotion of International Trade, Japan (Expected)
Water: the new power for machines!
Water: the new power for machines!
Food Safety! Community Safety!
National Safety! Human Safety!
The "Aqua Drive System (ADS)," a new water hydraulic system that uses tap water (safe water) for its power transmission, is the fourth drive system after electric, oil hydraulic, and pneumatic drive systems. This system is ideal for ensuring the above four kinds of safety, which are the current top priority.
The ADS is already used in the food processing machine industry, the medical, nursing care and welfare fields, the disaster prevention and rescue fields, and radioactive environments and its success is already anticipated.
IFPEX will demonstrate the ADS and promote international standardization of the ADS, which has just taken its first step to the world this year.
Let's see, touch, and run the ADS!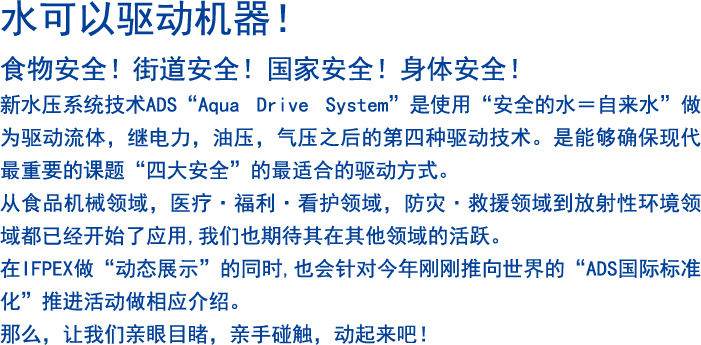 JTB Global Marketing & Travel Inc.
→https://mice3.jtbgmt.com/sep_show2017/?lang=en
Organized by
The Japan Fluid Power Association
Fuji-Sankei Business-i

主办团体:
日本流体动力协会
富士产经商务-i